Loulerie Fine Jewellery A/W '22
- YOUR INDIVIDUALITY IS YOUR STRENGTH -
As Team Loulerie gets ready to launch our latest Loulerie Fine Jewellery Collection, Louise Stokes shares with us the story behind her design process and inspiration.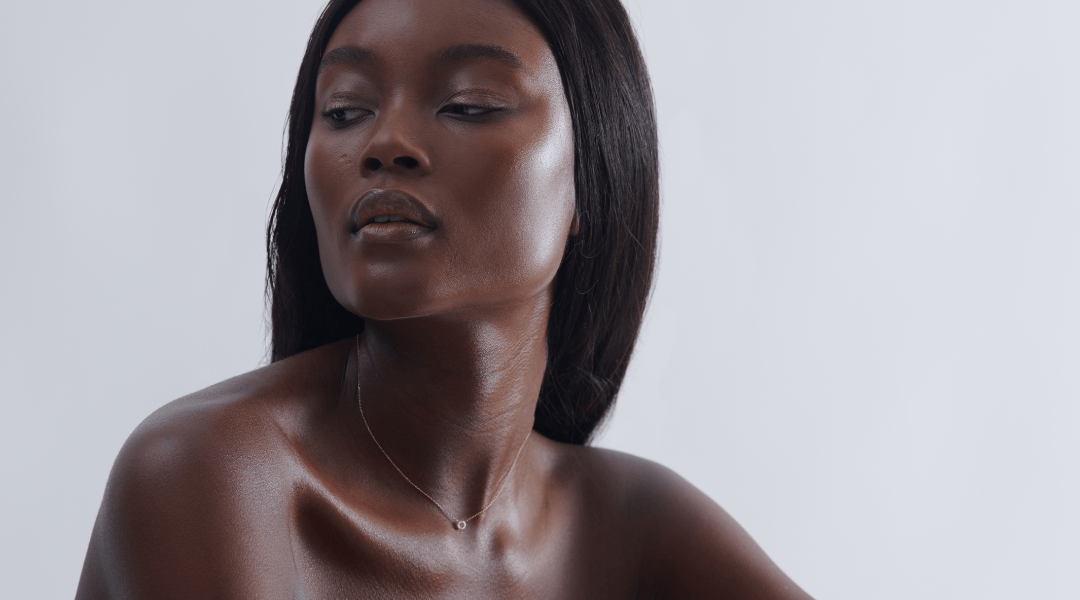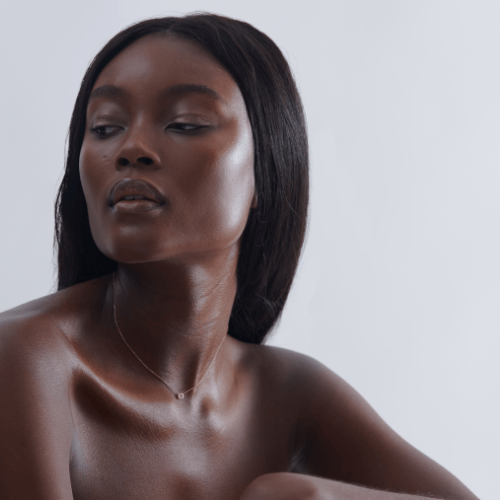 First stop - My Sketchbook and Our Customers
As with all my collections, I start the design process by thinking about which pieces I absolutely adore wearing myself day to day and go from there. I also look at what pieces I am missing in my own jewellery collection, what I would like to be wearing, what I haven't found or designed yet. This creates the space for new ideas. My design process is very simple - starting with the same sketch book I have had for 20 years - writing down ideas - sketching them out - re-thinking them. Often I might work on something for a few years and wait until it's exactly what I want before adding it to the collection.
Running the online store and retail store on Chatham Street means I am constantly getting customer feedback on what people like to wear and what they are looking for. This is a great advantage for me as a designer, I design for real women who value quality over quantity.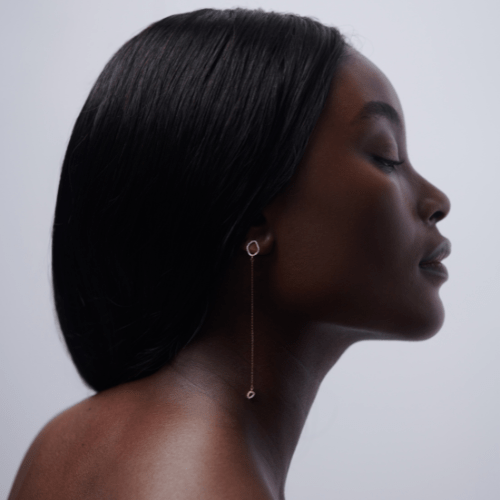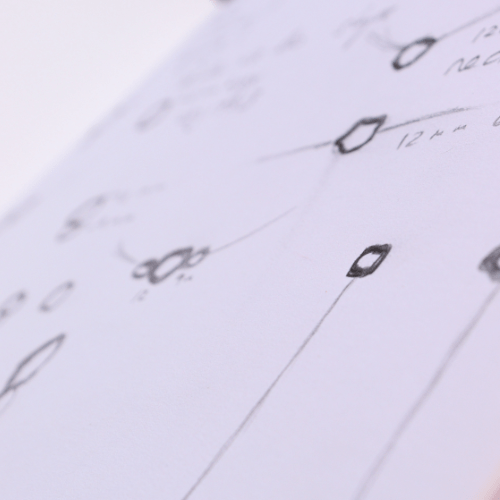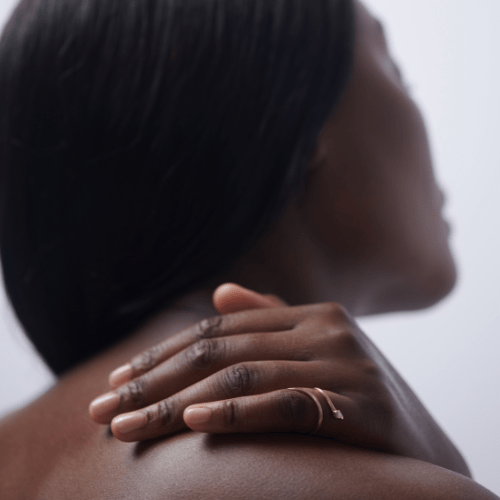 Design Mode
When I am in design mode, I sit at my kitchen table and listen to classical music. My mind races a lot so this helps me calm my thoughts and focus. The hardest part for me is actually curating the final edit as I find ideas lead to even more and more ideas and you have to know when to draw the line, and bank those ideas for a potential future collection. 
Often, the start of a new collection begins with an idea that's been niggling at me since the last one. Sustainability for me is very important, as a creative this means producing a very curated collection. The world does not need more stuff, Loulerie has always been and continues to be a "less-is-more" brand so often the curating of a collection is what is not seen in the design process but is in fact, the most powerful part of all.
We release a new Loulerie Fine Jewellery collection once a year but there is nothing seasonal about it; everything about it is timeless and classic. I am always drawn back to my signature wave designs from previous collections (like my White Diamond Yellow Gold Wave Necklace or the Loulerie Wave Hoops) and try to challenge myself to find new ways to rethink and evolve the concept while remaining true to my minimal aesthetic.
The Diamond Wave Chain Earrings are a personal favorite, they make me happy and I imagine them worn with a simple white top while out for cocktails; the movement of the chain means the light hits them at different angles, in my opinion, this is the real beauty of that piece. My obsession with mens' pinky rings continues, based on my stepdad's ring he has worn for years. Also in this collection is the Tiny Diamond Moon And Star Necklace inspired by a piece given to me as a gift from my family when I opened Loulerie and I wore it when I had both my children. I'm not overly attached to things but this necklace holds a special place in my heart.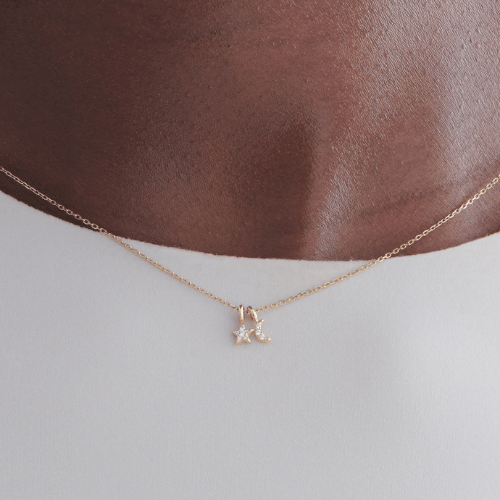 The Story behind the Shoot
This year's campaign is very influenced by Denmark, my husband is half Danish and we always go each summer, with Covid this was my first time in 3 years. We spend time on the northern coast by the sea and pop in and out to Copenhagen. The simple, easy day to day life always inspires me, getting on my bike each morning to go to the bakery and wandering down to the village in the evening for an ice cream are the highlights of the day. You can read about my Danish trip here. The Danish style of minimalism really appeals to me. I pay attention to what women of all ages are wearing as their jewellery and love the simplicity of the styling.
This informed the idea for the latest shoot to capture the Loulerie Fine Jewellery Collection. The main message, as always, is one of empowerment. That's what I want people to feel when they wear Loulerie. I want them to embrace their power and feel special.
The clothing is minimal - a mix of pieces in my own wardrobe as well as some key pieces from brands we adore, to tell the story of how my jewellery really is about celebrating individual style. I love to keep the hair and make-up minimal too with very little skin retouching. If you've read other Loulerie blogs, you'll know I am a mom of a pre-teen and feel responsible for the image my brand is projecting. We want it to be powerful, aesthetic as well as appealing. 
Our model, Chantal just stood out straight away when I was selecting. She has such a powerful look and is herself a recent Science graduate as well as a model, something I think is very inspiring. Find her on socials here. We wanted the campaign to be very collaborative so we are delighted to work withRyan Rivers. His amazing knowledge and use of light to create a mood for the campaign was really interesting for me to watch. It really set the tone for the campaign: very stripped back and all about letting the jewellery be the feature. I love his work and really enjoyed collaborating with him on how we bring my vision to life.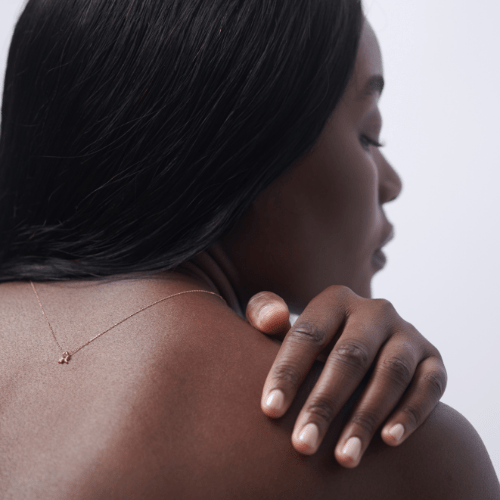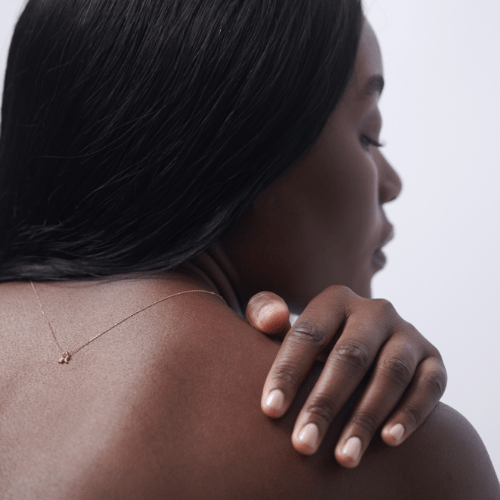 The Goal 
The goal is simple - I want to create pieces that make you happy, that when you open the little navy box you instantly feel connected to the jewellery and most importantly style it in your own way. I hope you enjoy the latest collection from Loulerie Fine Jewellery, I can't wait to hear what you think. Tag @louleriejewellery on Instagram with your new pieces. You may even feature in our Customer Appreciation posts. 
Speak soon.  
Love, 
Louise x